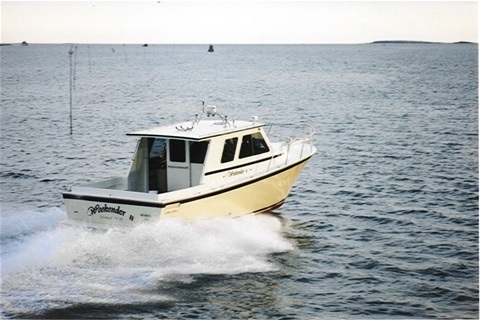 Born in 1958 into a family with marine heritage, now spanning over 150 years, a career begins sometimes well before official training begins, boat building and design of boats was an amateur passion from the age of 10 years to 18 years. Formal training as a mechanical engineer and summer engineering naval architectural works on CSS Hudson Mid Life Refit and other naval architectural work for Bedord Institute of Oceanography based Canadian Oceanographic vessels spawned the professional direction. This combined with a racing dinghy background of 8 years culminated in being selected to the Canadian Olympic Team as a Youth Delegate for the Canadian Yachting Association for the Montreal Olympic Games; including being chosen to carry the Olympic Flag in the Opening and Closing Ceremonies of the XXI Olympiad, gave Richard Brooke the goal to continue developing his skills and trade as a professional engineer in the marine industry. After graduation for Dalhousie University`s Technical University of Nova Scotia, with a Bachelor of Mechanical Engineering; he helped establish his father´s new oceanographic equipment design and engineering firm of BROOKE OCEAN TECHNOLOGY LTD. ( now ROLLS- ROYCE MARINE CANADA), his interest in underwater equipment and shipboard handling systems gave birth to an appointment within the Bedford Institute of Oceangraphy in 1984. In 1985, his career and life shifted to Finland, with the establishment of his own family. The career grew rapidly with the first major new building design and specification for the then new Finnish National Research Vessel R/V " ARANDA", which his leadership and presentation helped gain the contract to build the advanced research vessel in his shipyard; Oy Laivateollisuus Ab. Upon his success, he was asked to join the new yacht division of the yard and managed a Whitbread racing yacht´s hull construction R&D and was yard project manager for a 63 m LOA Jon Bannenberg designed motor yacht. The circumstances of the Soviet Union´s demise, gave birth to a time when he decided to branch out on his own and begin a consulting yacht and marine career that spanned from 1989 to 2000; and included the design, under his own name, of 35 vessels between 10m and 30m LOA, oceanographic handling systems and included employment with Broward Marine Inc., as Chief Engineer/ Naval Architect, (for 6 newbuildings and 4 refits), consulting as in house designer for Paola D. Smith for her award winning M/Y "GALLANT LADY" and working for Sparkman & Stephens. Brooke´s skills and expertise was involved significantly in Nova Scotia, between 1994 and 1999 helping the boat industry unite and bringing new technology to the fishing industry for fishing vessel design. Significant work in Finland also was done with builders such as Nautor and many work boat builders. The development of a good rounded career is always requiring new tools and Brooke comlpleted his Yacht Naval Architect Diploma from Westlawn Institute of Marine Technology in 2000. Being a registered Professional Engineer of Nova Scotia since 1984 and a Finnish Engineer since 2001 have given a well rounded understanding of his engineering profession and its activities in all facets of the marine and offshore industry. His works have won International Design Competitions; namely the " Yachting Magazine" Motor Yacht Design Competition in 1994 and has presented revolutionary design concepts and published in significant yacht industry leading literature as Boat International´s SUPERYACHT Annual 1993, with his design concept "DELPHI An Ocean Exploration Yachting Concept". His interest in the diversity of naval architecture lead him to involvelment in large cruise/passenger ships The span of recent career has included 7 years with two major IACS Classfication Societies as an Exclusive Surveyor. Now after a rounded career Richard Brooke Naval Architect/ Professional Engineer brings his international experience with over 53 new buildings in which his skills were actively utilized to the birth of Richard Brooke Yacht & Naval Architects; an office determined to give thier clientele the best benefit of this 30 year career. This career is still growing including new activities in philanthropy related to fishing and developing countries; under his new to be established "WE CAN FISH" Project; a project to help the UN MDGs. Additionally, teaching in Canada in th late 1990s as a special lecturer in yacht design and construction for Dalhousie University Engineering (DALTECH), the Nova Scotia School of Art & Design (NASCAD), guest lecturer at Memorial University (MUN) combined in 2001/2002 lecturing in Finland at Kymmenlakso Polytecnic University( KYMAK) yacht design and construction has given Brooke an opportunity to help young yacht industry professionals learn to create.
Diversity and creativity breed new ideas combined with experience create new solutions.
"THE JOY OF CREATION IS TO HELP OUR CLIENTELE TOUCH THEIR DREAMS"